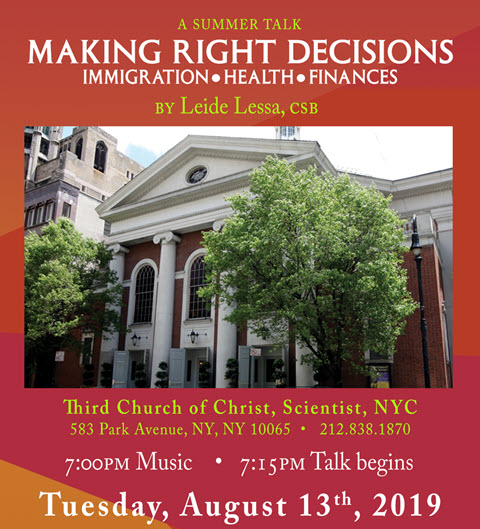 Dear Friends,
This summer, Third Church of Christ, Scientist in NYC is sharing with the world a free talk entitled "Making Right Decisions: Immigration, Health, Finance" given by Leide Lessa, CSB on August 13th, 2019. Leide is a Christian Science teacher and a member of the Christian Science Board of Lectureship.
Is there a way to know the right choice when making decisions? Is there a way to have a breakthrough when no solutions are in sight? Come join us and gain an understanding of God's goodness for all.
For the first time, this talk will be broadcast live in Spanish and the English speaking audience will have a simultaneous translation provided by headphones.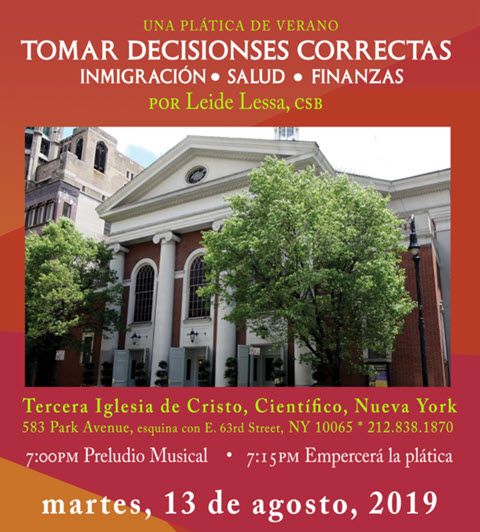 Third Church NYC invites you to experience the healing energy of this lecture in person at their historic church edifice, but if you aren't able to attend in person, wherever you are in the world, you can join the live online webcast of this event at ThirdChurchNYC.com. You can also listen via conference phone for English at 1 (310) 372-7549 (access code 607611) and for Spanish at 1 (310) 372-7549 (access code 7474).
ThirdChurchNYC.com
English: 1-310-372-7549, access code 607611
Spanish: 1-310-372-7549, access code 7474
A musical performance by Max Francisco begins at 7:00 pm, followed by Leide Lessa's inspirational talk at 7:15 pm.
For more information, contact Third Church NYC at 212-838-1870.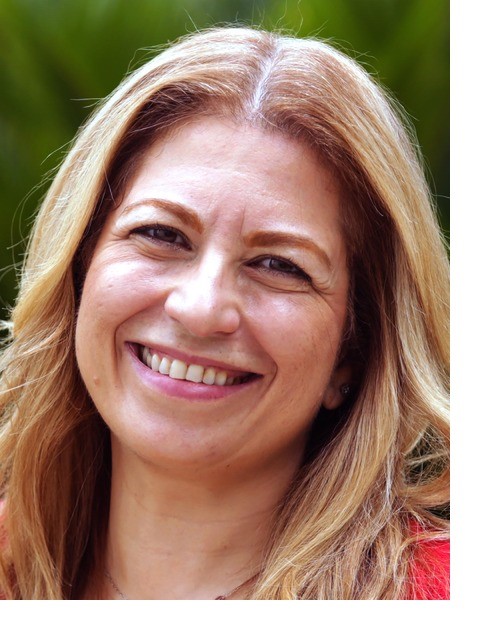 Leide worked for 14 years at the Christian Science Publishing Society, the last six as Managing Editor of The Herald of Christian Science, published regularly in 14 languages. During the ten years that Leide owned her language institute, she participated in national and international teachers conferences. She also helped organize local Christian Science youth summits. After witnessing healings from students and colleagues who asked her to pray for them, she felt that there is no higher profession than dedicating her life to helping others through metaphysical scientific prayer. So she sold her school and became a Christian Science practitioner in 1998 and a Christian Science teacher in 2009.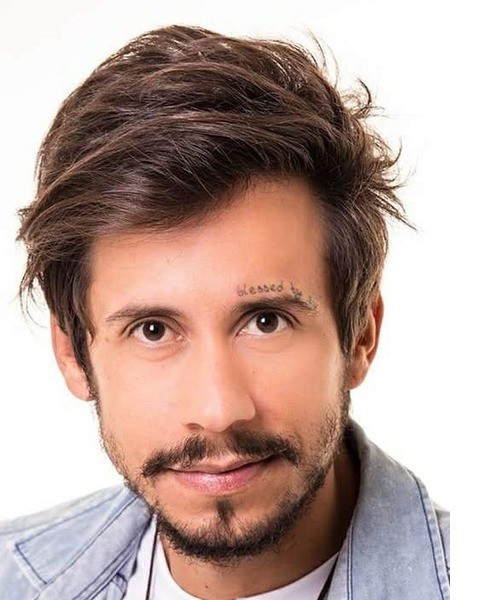 Max has been singing since the age of six and plays several instruments namely, violin, viola caipira and the guitar. Max has performed throughout Brazil, participating in major events such as Planeta Atlântida (Florianópolis), Barretos Peon Festival, and important festivals, among them the Viola de Todos Cantos (Rede Globo), Raul Gil's calf in 2005 (Max and Capella), partner of Gian, the duo Gian & Giovani, in 2015 (Gian & Giulliano). He has performed at Brazilian Day, and toured with singer João Gabriel, throughout the United States.
We look forward to sharing this event with you!