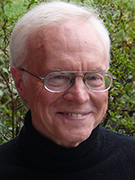 Don't sit this one out! Explore how prayer can resolve conflict. You discover:
Prayer-based action
How we can get involved in healing conflicts in our own lives and for the world, from a century-old, divisive national conflict to a family fight.
John Tyler, a former labor union organize, has degrees from both Princeton University and the Institut d'Etudes Politiques, Paris. He has taught political science at Princeton and the University of Pittsburgh, and is now a practitioner and teacher of Christian Science healing. He travels internationally, speaking about the power of prayer to promote health and healing in people's lives.
Sunday, August 2, at 2 PM
First Church of Christ, Scientist
1321 W. Avenue F
Garland, TX 75040
Here is a flyer. For more information, please call 972-276-2617.