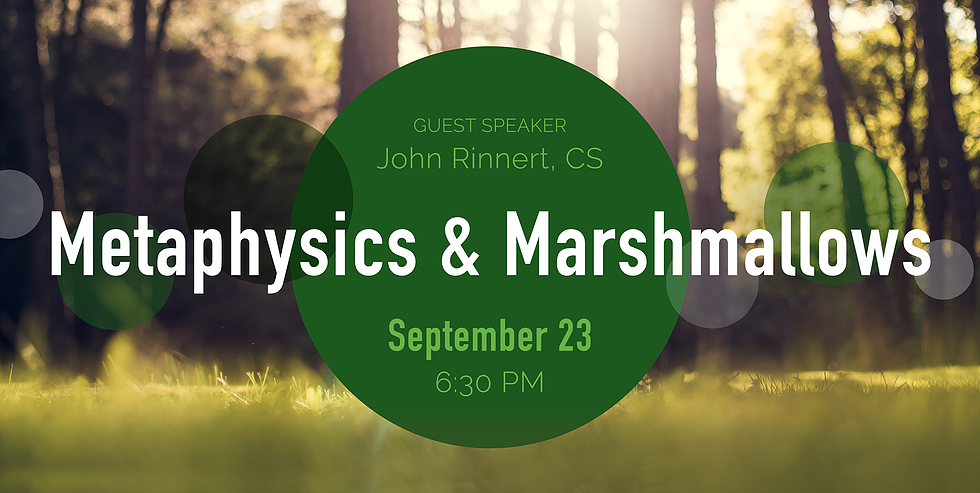 This talk on September 23rd at 6:30 PM will be at The Leaves, 1230 West Spring Valley, in Richardson, TX.
Speaker John Rinnert has been a Journal-listed Christian Science practitioner for 12 years. He loves turning thought towards the Word of God, the "Great Shepherd" that feeds His flock with increased understanding of Truth, Life, and Love.
John and his wife, Lauren, have recently moved to Dallas, Texas, where Lauren is in training to become a Christian Science nurse. Along with his love for the Scriptures and writings of Mary Baker Eddy, John also enjoys anything on two-wheels, including bicycles and motorcycles, fly fishing & TenKara, and playing soccer.
After the talk, we'll roast marshmallows over the fire. Get ready for some gourmet S'mores!
We look forward to sharing this special evening in our garden and under the stars with you. Seating will be provided, but please feel free to bring your own blanket, lawn chair or even a picnic (and your Bible). John asks that you bring your favorite copy of the King James Bible with you.
And he shewed me a pure river of water of life, clear as crystal, proceeding out of the throne of God and of the Lamb. In the midst of the street of it, and on either side of the river, was there the tree of life, which bare twelve manner of fruits, and yielded her fruit every month: and the leaves of the tree were for the healing of the nations. And there shall be no more curse: but the throne of God and of the Lamb shall be in it; and his servants shall serve him:
Revelation 22:1-3